A food list can help prepare you for the Daniel Fast. For many, deciding what to eat on the Daniel Fast can be overwhelming. Concern or fear can set in when you assume that you'll have fewer food options.
If you're thinking this, let us put your mind at ease. There are countless options!
In this article, we provide you with:
To start, below is a general list of the foods that are both included and not included in the Daniel Fast.
Food List for the Daniel Fast
The table below summarizes what's included and not included in the Daniel Fast.
| Included | NOT Included |
| --- | --- |
| Water | All meat and animal products |
| All vegetables | All red and white meats (cow, lamb, pig) |
| All fruits | All poultry (chicken, turkey) |
| Mushrooms | All fish and seafood |
| All intact whole grains | All dairy products (milk, cheese, butter) |
| All legumes (beans, lentils) | All other dairy (yogurt, kefir) |
| All nuts and seeds | All eggs and related products (mayo) |
| Fresh herbs | All natural sweeteners (maple syrup, agave) |
| Frozen fruit and vegetables | All artificial sweeteners |
| Tofu and tempeh | Highly processed foods (granola bars) |
| Corn tortillas | Packaged frozen meals |
| Whole grain pasta | Deep-fried foods |
| Canned beans | Leavened breads |
| Nut butters | All oils |
| Carbonated water (plain) | Solid fats (coconut oil, shortening) |
| Fresh vegetable and fruit juice | Caffeine (coffee, tea, energy drinks) |
| Dried herbs and seasonings | Alcohol |
This list is far from complete. Click the button below 👇 to get the detailed Daniel Fast Foods List in a downloadable PDF.
Sample Daniel Fast Meal Plan
This recipe website—Daniel's Plate—has several Daniel Fast recipes for you to choose from. Check out this sample meal plan for inspiration, and click the photo for more details.
Frequently Asked Questions about the Daniel Fast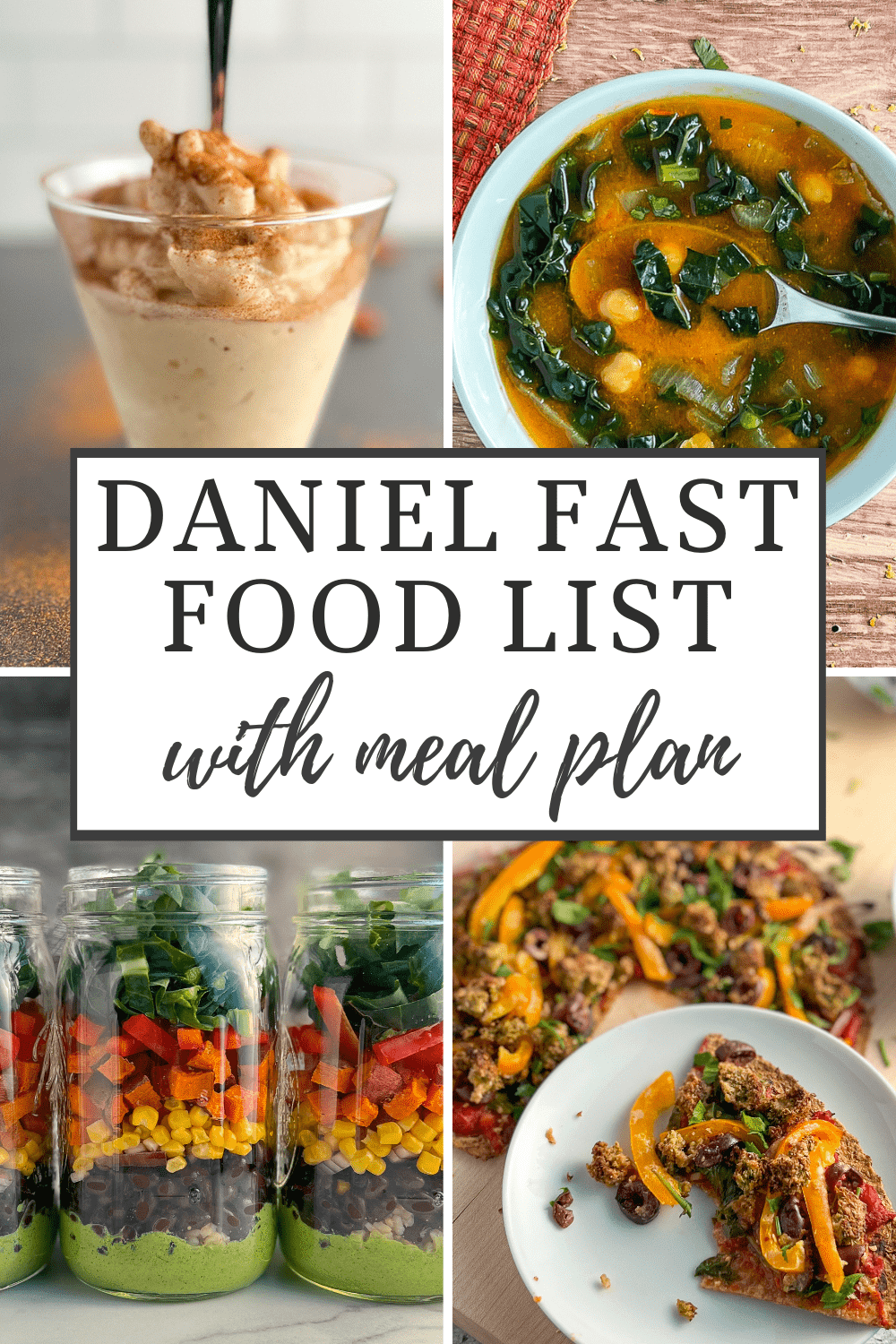 Click the button below 👇 to get the detailed Daniel Fast Foods List in a downloadable PDF.
Refuse the king's diet!
This Daniel Fast book will empower you to refuse the king's diet. You will become a Daniel in your own life and a stronger, healthier version of yourself. Having your health means you can serve more, give more, and live out your calling with excellence.
Join the Meal Prep Cooking Class with Sersie and Gigi
Let's face it, staying consistent with your health goals starts in the kitchen. This meal prep cooking class will help you develop a routine of eating healthy foods so you can be successful long-term. You don't have to be an expert chef or even love to cook; you just need the desire to eat healthy. It's that simple!
FREE 4-Day Challenge
If you want to do the Daniel Fast in a community, please join us for A Prayer for Your Health FREE 4-Day Daniel Fast Challenge.
We hope this article is helpful. Your feedback is important to us. Please leave a reply below and share.
With blessings,
Sersie & Gigi
Beloved, I pray you prosper concerning all things and to be in good health just as your soul prospers. 3 John 1:2