This Yummy Raw Walnut Taco Salad with Cilantro Lime Ranch Dressing is flavorful and nutrient dense. The vegan taco meat in this recipe could be used for tacos, on a baked potato, on a pizza, and even in a breakfast burrito.
I'm always in the mood for tacos, but I'm not always up for preparing them. So, when I figured out a way to have tacos without having to make tacos, I did a happy dance in my kitchen. If you ever felt like the delicious flavors of a taco all rolled into a salad, then you will love this Yummy Raw Walnut Taco Salad with Cilantro Lime Ranch Dressing.
There is something pleasing about creating a fast meal during the hot summer months without firing up all the pots and pans in the kitchen. The secret flavor weapon in this salad is the walnut meat made with sundried tomatoes, Simple Homemade Date Syrup (or a date), and a blend of spices.
What is vegan taco meat made of?
Prepackaged plant based taco meat is often made with a lot of salt and other additives. This vegan taco meat recipe is made of 10 whole food ingredients:
Raw walnuts
Sundried tomatoes (no oil)
Garlic
Aminos (coconut or regular)
Smoked paprika
Ground cumin
Chili powder
Date (or Simple Homemade Date Syrup)
Jalapeno
Water
More about the vegan taco meat in this Yummy Raw Walnut Taco Salad. . .
With a portion size of about ¼ of a cup, this vegan taco meat may appear small, it's big in flavor. Therefore, you just need a little to give this salad that spicy-sweet kick. Walnuts provide you with healthy omega 6 and 3 essential fatty acids. But a little goes a long way. Walnuts are calorie-dense, so if weight loss is a goal, stick to the portion size of this recipe.
The other toppings and dressing
This salad has all your favorite taco toppings like pinto beans, tomatoes, roasted corn, bell peppers, and onions. The oil-free Cilantro Lime Ranch Dressing has silken tofu, cilantro, fresh lime juice and a melody of spices brings this salad together. This creamy dressing complements the spicy-sweet walnut meat and creates an explosion of flavors that will have you throw out the idea that salads are boring. Lastly, the oven-baked corn tortilla gives this salad a beautiful crunch. This salad is fast and easy to put together and will undoubtedly be a crowd-pleaser.
— Sersie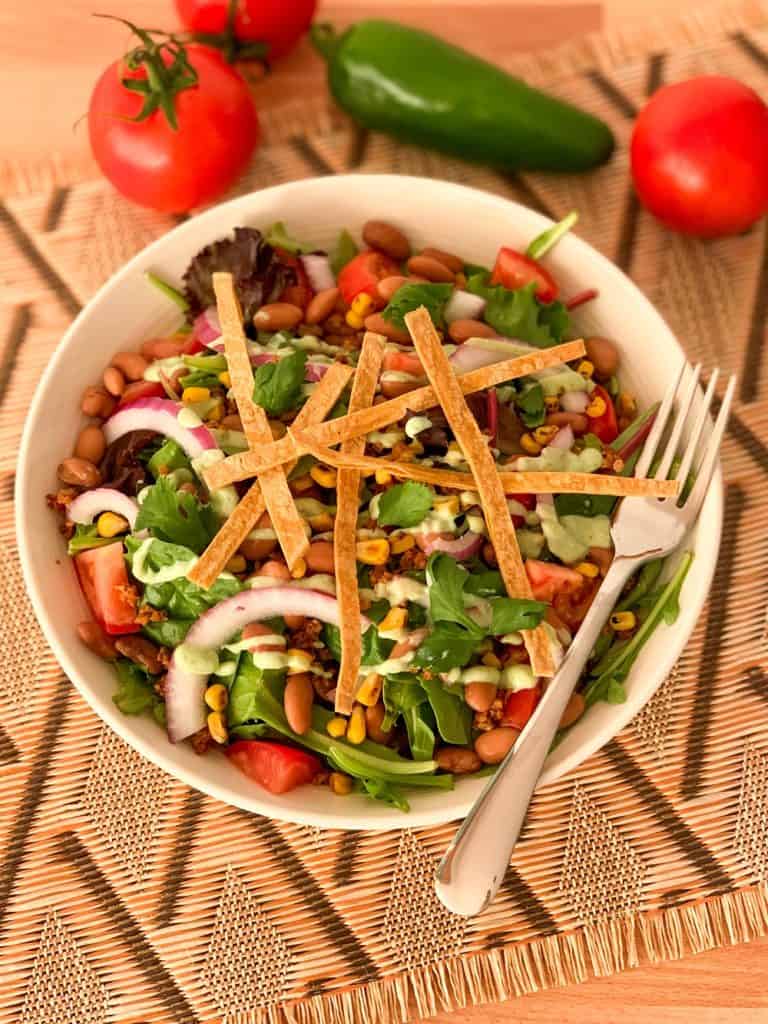 Print
Yummy Taco Salad with Cilantro Lime Ranch Dressing
---
Total Time:

45 minutes

Yield:

4

1

x

Diet:

Vegan
Raw Walnut Taco "Meat"
½ cup of walnuts (optional: soak for 2 to 8 hours for easier digestion)
2 sun-dried tomatoes (no oil, just plain; if firm, soak in hot water for 5 to 10 minutes to soften)
1 clove of minced garlic
½ tsp of aminos (coconut or regular)
1 tsp smoked paprika
1 tsp of ground cumin
1 tsp of chili powder
½ pitted date soaked in hot water for 5 to 10 minutes to soften (or 1 Tbsp Simple Homemade Date Syrup)
1 Tbsp of water
1 Tbsp of minced jalapeño (remove seeds for less heat)
Tortilla
2 corn tortillas, chopped into strips
Salad Base and Remaining Toppings*
8 cups of mixed baby salad greens, spinach or chopped romaine lettuce
1 can pinto beans, drained and rinsed
1 bell pepper, chopped
1 large tomato (or 2 small tomatoes), chopped
1 cup roasted corn
½ cup sliced red onion
*Other optional toppings include more cilantro, olives, avocado, shredded carrots, shredded purple cabbage, green onions, diced mango, sliced cucumber, mushrooms, black beans, and nutritional yeast.
---
Instructions
Raw Walnut Taco "Meat"
Add all ingredients to a food processor, and pulse to desired texture. Add more water as needed. It should resemble minced meat with a slight bit of texture.
Tortilla
Put sliced tortillas into the oven or air fryer at 350F and bake for 8 to 10 minutes until crispy.
Assemble Salad
Divide salad greens, spinach or lettuce between four large bowls. Top each with ¼ of the taco meat, pinto beans, and remaining toppings. Add cilantro lime ranch dressing, and oven (or air fryer) baked tortilla strips for added crunch. Enjoy! 
Any unused raw walnut taco meat can be stored in the refrigerator for up to 4 days in an airtight container. 
Notes
Prep Time:

45 minutes

Category:

Lunch/Dinner Entrée
Keywords: taco salad, no oil, oil free, walnut taco meat, sundried tomato, garlic, aminos, smoked paprika, ground cumin, chili powder, simple homemade date syrup, jalapeno, sprouted corn tortilla, silken tofu, apple cider vinegar, garlic, cilantro, lime, daniel fast compliant, daniel fast recipes, mixed baby salad greens, pinto beans, red bell pepper, salad, vegan, gluten free, vegan taco meat recipe
Packed with daily devotionals, nutritional tips, journal prompts, and inspirational quotes, A Prayer for Your Health Journal will help you create a God-centered vision for your health. This journal provides practical tools and spiritual guidance to bring physical, mental, and spiritual health back into your life. It will inspire you to reset your body and energize your walk with God.
FREE #PFYH 4-Day Challenge
A Prayer for Your Health 4-Day Daniel Fast challenge will nudge you in the direction of taking those first steps from the rut of an unhealthy lifestyle to taking control of your health.
What you'll get:
Access to a private FB community
Know-how & info with an instructional guide
Inspiration through daily scripture
Motivation with journal prompts
Actionable steps with sample meal plan & recipes
Encouraging daily emails to help strengthen you along the way
Success strategy from additional resources and information
You'll also be invited to LIVE short sermons during the 4 days, in which we'll be praying for:
A God-centered self-image (Day 1)
Breaking our addiction to food (Day 2)
Breaking generational cycles of poor health (Day 3)
The courage to take action (Day 4)
Shop!
As an Amazon Associate, we receive a small commission for qualifying purchases.