Eat the rainbow with this fiber-fueled rainbow salad. This anti-inflammatory salad is jam-packed with nutrient density. Loaded with antioxidants, beneficial compounds, and over 25 different plants, this salad is good for gut health.
What you need to make this rainbow salad
Mixed baby greens
Cucumber
Carrot
Jicama
Beet
Red bell pepper
Purple cabbage
Onion
Radish
Tomato
Broccoli sprouts
Other optional additions:
Kimchi
Hemp Hearts
Pumpkin Seeds
Sunflower Seeds
Raisins
Legumes: black beans, chickpeas, kidney beans, green peas, or lentils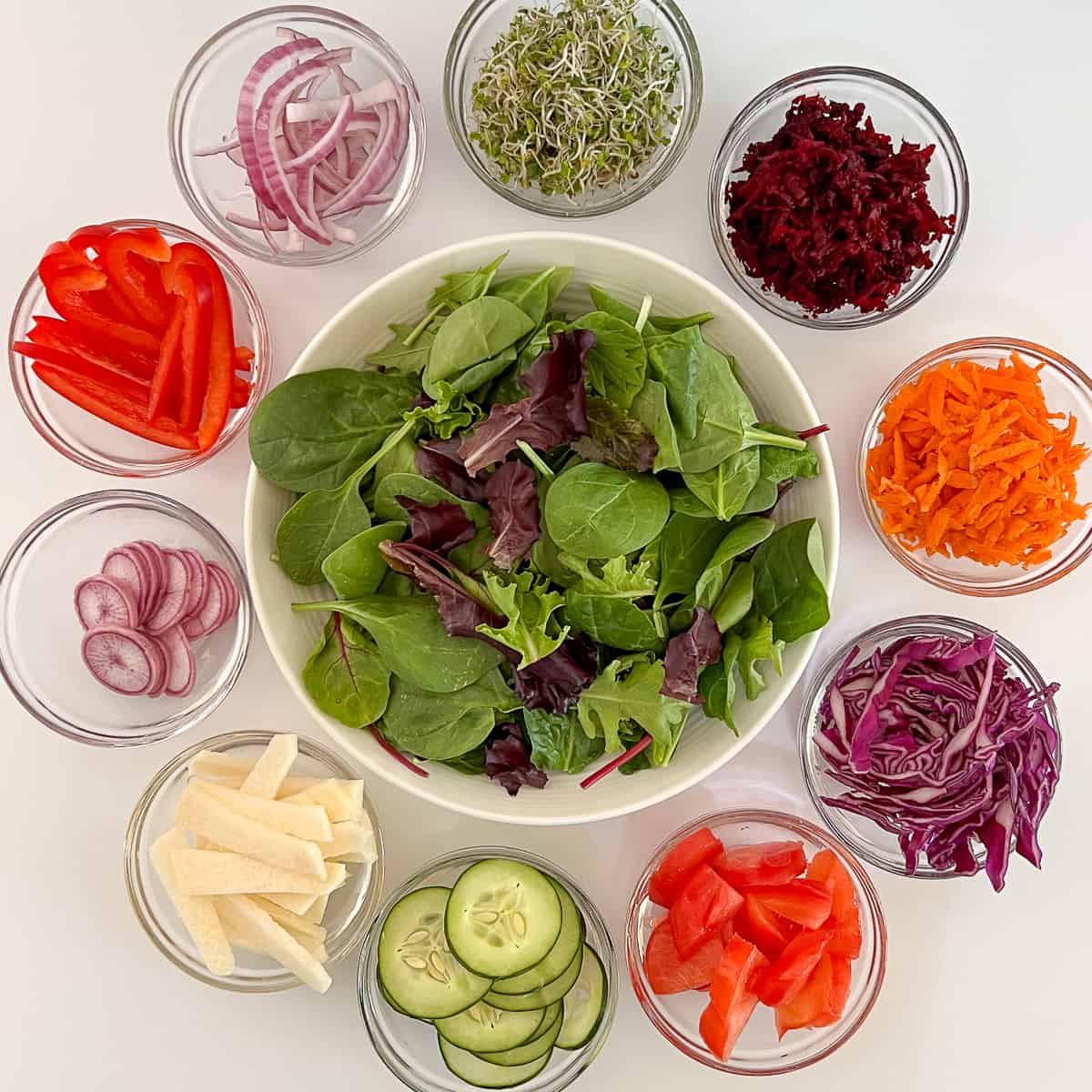 One of my favorite salad greens to buy is Organic Girl's 50/50 with half-mixed greens and half-baby spinach. This specific mixture has about 14 different plants. The remaining toppings add another ten different plants.
Depending on the salad dressing you use, and if you add seeds, beans, and whole grains like our ancient grains, this salad will push you over the 30 different plants goal in one day!
Check out this article on how to eat over 30 plants a week.
Frequently Asked Questions
What's the best salad to eat?
Any salad that meets the goal of "eating the rainbow." Why? Because it provides fiber and a diversity of antioxidants and phytochemicals to improve health. Sounds weird, I know. But health restoration happens within our tissues and cells. The color of food matters! These nutritive and non-nutritive compounds are anti-inflammatory and stop free radical damage. Inflammation and free radicals are common with obesity, type 2 diabetes, heart disease, cancer, and autoimmune conditions. This Easy Rainbow Salad has the colors green, red, purple, white, and orange.
What are some other variations of this rainbow salad?
There are different variations of this salad where you can swap out jicama for cauliflower (both white). You can also add broccoli for more cruciferous vegetables. Add some shredded beets to boost nitric oxide-producing compounds. Heirloom tomatoes and avocado are an excellent combination to toss in. If you prefer a sweeter salad, you can add fresh fruit like diced apples, pears, or berries. One of my favorite things to do is add kimchi—a fermented cabbage with probiotics.
What about protein?
While there is protein in vegetables, you can easily add ½ to 1 cup of chickpeas, black beans, lentils, ancient grains, quinoa, or farro. Alternatively, pairing this salad with a cup of Amazing Lentil Soup or North African Chickpea Soup are also excellent options for added protein.
Should you eat 30 plants a week?
Diet plays a key role in a healthy gut microbiome. According to a 2018 study, American Gut: an Open Platform for Citizen Science Microbiome Research, "Plant consumption was also associated with a reduction in certain antibiotic resistance genes. Individuals who consume more than 30 types of plants per week compared to those who consume ten or fewer plants per week had significantly reduced abundance of antibiotic resistance genes..."
We hope you love this rainbow salad. Please rate and leave a comment below. Be sure to share a picture on Instagram and tag us @danielsplaterecipes so we can see your creation!
Print
Rainbow Salad
---
Author:

Total Time:

15 minutes

Yield:

1

1

x

Diet:

Vegan
Description
Eat the rainbow with this fiber-fueled rainbow salad. This anti-inflammatory salad is jam-packed with nutrient density. Loaded with antioxidants, beneficial compounds, and over 25 different plants, this salad is good for gut health.
---
4 cups

of mixed baby salad greens

½ cup

shredded beet

½ cup

shredded carrot

½ cup

shredded purple or green cabbage

½ cup

chopped tomato

½ cup

sliced cucumber

½ cup

sliced or chopped jicama

½ cup

sliced red bell pepper

¼ cup

sliced radish

¼ cup

sliced onion

½ cup

broccoli sprouts
Optional Additions
fermented vegetables (kimchi, sauerkraut)

ancient grains

beans or lentils (black beans, chickpeas, kidney beans, brown/green lentils)

seeds (hemp hearts, pumpkin seeds, sunflower seeds)
---
Instructions
Combine all veggies into the largest bowl you have on hand. 
Add dressing and optional additions (if using), and enjoy!
Notes
EQUIPMENT / SUPPLIES
Knife
Cutting board
Measuring cup
Prep Time:

15 minutes

Category:

Lunch/Dinner Entrée

Cuisine:

American
Keywords: rainbow salad, large salad, salad entrée, mixed baby greens, red bell pepper, purple cabbage, jicama, cucumber, beets, broccoli sprouts, cucumber, onion, carrot, daniel fast compliant, daniel fast recipe, vegan, healthy vegan, antioxidants, phytochemicals, soy free, gluten free, nut free, low fat, anti-inflammatory
Reset, Reconnect, and Realign
Packed with daily devotionals, nutritional tips, journal prompts, and inspirational quotes, A Prayer for Your Health Journal will help you create a God-centered vision for your health. This journal provides practical tools and spiritual guidance to bring physical, mental, and spiritual health back into your life. It will inspire you to reset your body and energize your walk with God.
FREE #PFYH 4-Day Challenge
A Prayer for Your Health 4-Day Daniel Fast challenge will nudge you in the direction of taking those first steps from the rut of an unhealthy lifestyle to taking control of your health.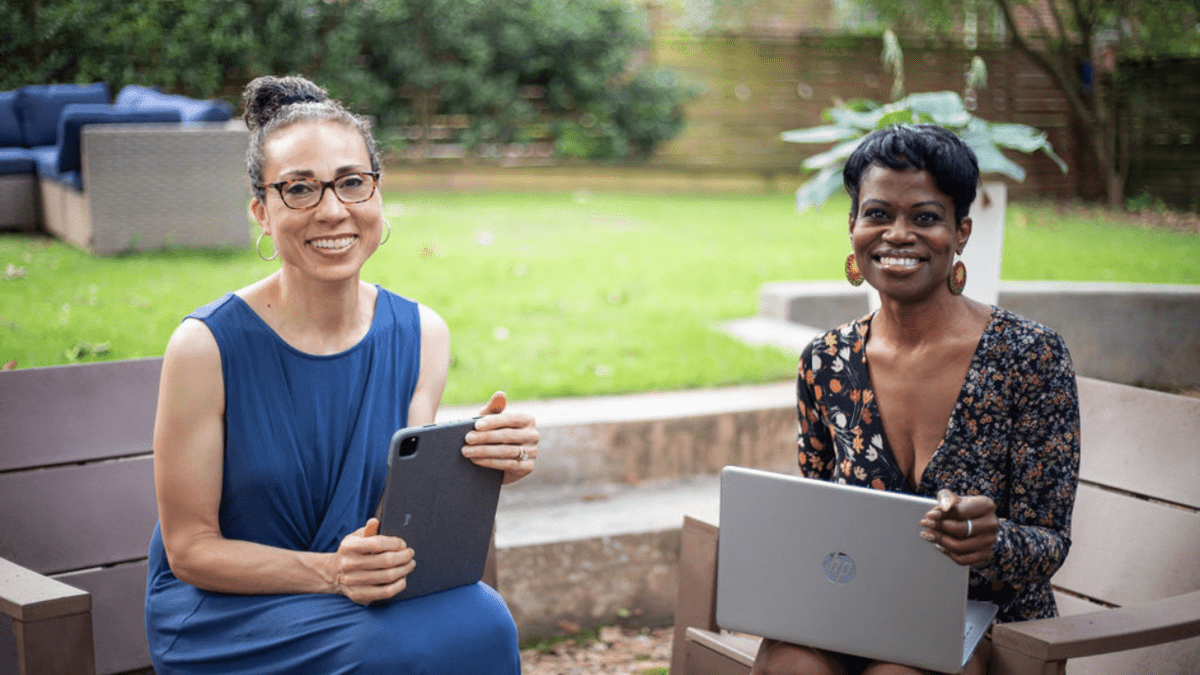 What you'll get:
Access to a private FB community
Know-how & info with an instructional guide
Inspiration through daily scripture
Motivation with journal prompts
Actionable steps with sample meal plan & recipes
Encouraging daily emails to help strengthen you along the way
Success strategy from additional resources and information
As an Amazon Associate, we receive a small commission for qualifying purchases.