This 3-Minute Hemp Milk recipe is excellent for someone with a nut or soy allergy or in need of a quick and easy plant-based milk. Because hemp hearts (seeds) are soft, there's no need to soak them beforehand. They blend nicely in a high-powered blender.
Nutritionally, hemp hearts are a good source of omega-6 and omega-3 essential fatty acids, as well as protein. This little powerhouse is also rich in magnesium—an important mineral for the brain, heart and skeletal muscles. If you want to geek out on the importance of magnesium, check out this paper.
3-Minute Hemp Milk is made with just 2 ingredients
Hemp hearts (seeds)
Water
I've used hemp milk on oatmeal, in smoothies, and in a Golden Milk Latte. Some ways to vary this recipe are: (1) add a pitted date that's been soaked in hot water for 5 minutes to soften; or (2) add a vanilla bean, scraped or a ⅛ teaspoon of alcohol-free vanilla extract prior to blending.
NOTE ABOUT GLUTEN FREE: For many with gluten sensitivities, hemp hearts are completely fine. However, for those with extreme sensitivities or allergies, like celiac disease, be sure to read the package more closely. You see, there have been some reports that cross-contamination can happen in the field and during handling, transportation, and storage. So just read the label to make sure your hemp hearts are gluten-free.
How to Make Hemp Milk
Put hemp hearts and cold water into a high-powered blender and blend for one minute or until smooth and creamy.* That's it!
Store in a mason jar or other airtight container in the refrigerator for up to 5 days.
*If using add-ins like a date or vanilla, just add those with the hemp hearts and water.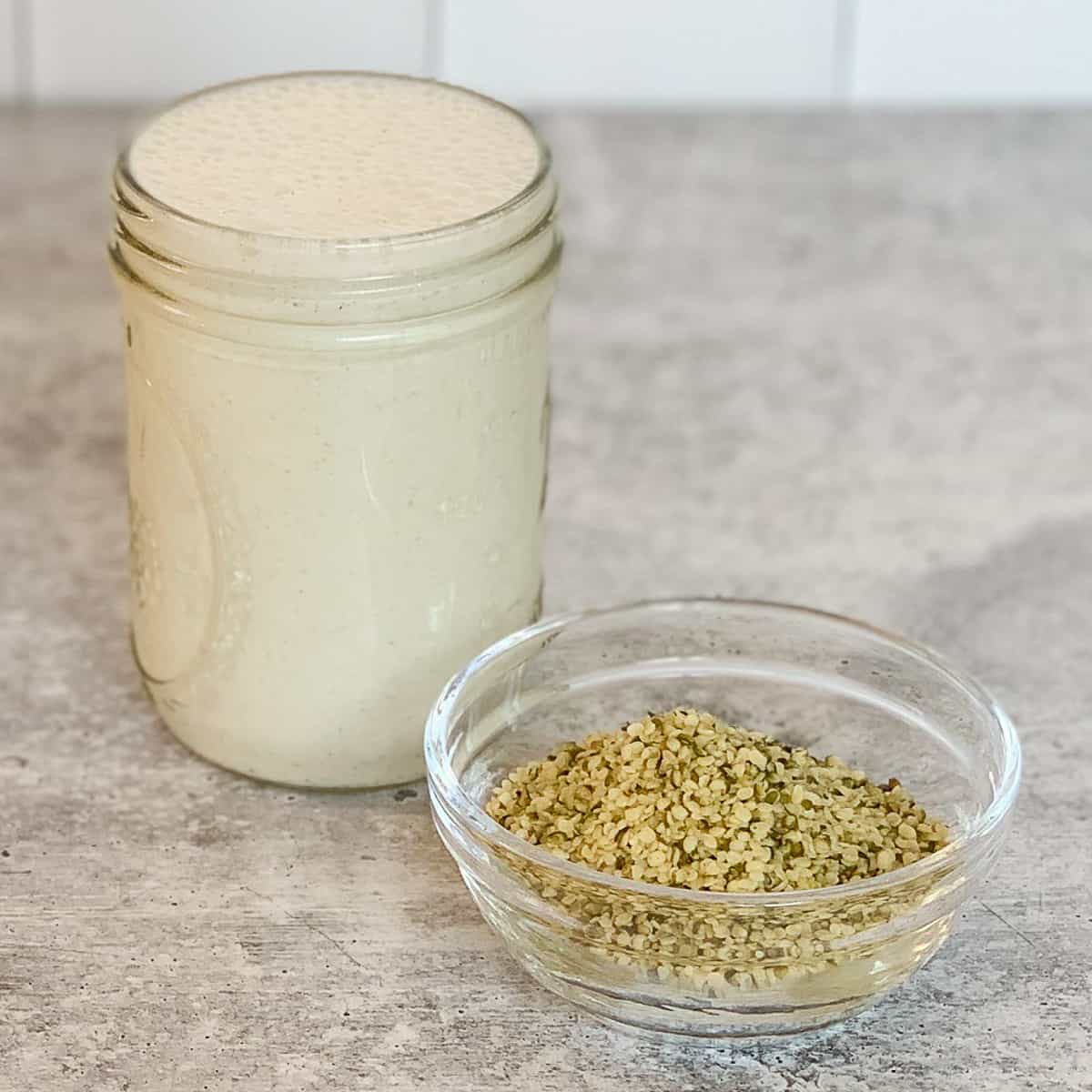 Frequently Asked Questions
Is hemp milk better than regular milk?
Yes, hemp milk is low in saturated fat, does not contain hormones (like cow's milk) and is a rich source of omega 3 essential fatty acids—shown to be anti-inflammatory and beneficial for heart and brain health. Hemp milk, when not strained, is also a good source of fiber, while cow's milk does not contain any fiber.
Does hemp milk have CBD?
No. Cannabidiol (CBD) is found in the buds and flowers of hemp plants, not the seeds. So, hemp milk does not contain CBD.
Is hemp milk better than almond milk?
It depends, but mostly yes. Hemp milk is allergen-friendly, has more omega 3 essential fatty acids, and has almost twice the protein as almond milk. While almond milk is a better source of Vitamin E, hemp milk is higher in other micronutrients like magnesium, zinc, thiamin, niacin, and phosphorus. So from a nutritional standpoint, hemp milk edges out almond milk. However, if you're someone who purchases store-bought plant-based milks instead of making your own, then almond milk might be preferred because it's more readily available and tends to be less expensive than hemp milk. Therefore, you have to decide what is most important to determine if hemp milk is better for you.
How long does this 3-minute hemp milk keep?
You can store leftover hemp milk in an airtight container for up to 5 days. You'll want to shake it before using, because there will be some separation while it sits in the refrigerator.
We hope you love this 3-Minute Hemp Milk. Please rate and leave a comment below. Be sure to share a picture on Instagram and tag us @danielfastrecipes so we can see your creation!
Print
3 Minute Hemp Milk
---
Author:

Total Time:

3 minutes

Yield:

2

1

x

Diet:

Vegan
Description
Hemp seed milk is a fast, easy, and nutritious replacement for cow's milk. You can make this recipe with two ingredients (hemp hearts/seeds and water) in only 3 minutes! Hemp seeds are a rich source of omega 6 and omega 3 essential fatty acids. It has a mild, nutty flavor and works beautifully in oatmeal and smoothies. #hempseedrecipes #hemphearts #plantbasedmilk #healthyveganrecipes #danielfastrecipes #dairyfree
---
Optional Add-Ins:
1

date, pitted and soaked in hot water for 5 minutes (to soften)

1

vanilla bean, scraped
---
Instructions
Blend in a high-powered blender for 1 minute or until smooth and creamy. Store in a mason jar or other airtight container in the refrigerator for up to 5 days.
Notes
Prep Time:

3 minutes

Category:

Plant-Based Milks

Method:

Blender

Cuisine:

American
Keywords: hemp hearts, hemp seeds, hemp milk, plant based milk, vegan, daniel fast compliant, quick and easy, soy free, nut free, gluten free
Reset, Reconnect, and Realign
Packed with daily devotionals, nutritional tips, journal prompts, and inspirational quotes, A Prayer for Your Health Journal will help you create a God-centered vision for your health. This journal provides practical tools and spiritual guidance to bring physical, mental, and spiritual health back into your life. It will inspire you to reset your body and energize your walk with God.
FREE #PFYH 4-Day Challenge
A Prayer for Your Health 4-Day Daniel Fast challenge will nudge you in the direction of taking those first steps from the rut of an unhealthy lifestyle to taking control of your health.
As an Amazon Associate, we receive a small commission for qualifying purchases.