I often make Avocado Veggie Nori Rolls with Edamame when I have leftover rice from a rice and bean or Buddha bowl. Because the rice is the only thing that takes time to prepare. The rest are ingredients I always have on hand in the refrigerator, pantry and freezer.
There's so much you can do with sushi rolls. The basics are the nori sheets and whole grain, like short grain brown rice. What you fill it with can be fun to play around with.
But first, let's pay homage to the nori sheets.
Nori is a type of edible dried seaweed sheet. They are widely available online and at most major grocery retailers in the Asian food section. These sheets are versatile in their use and a good source of iodine—a mineral necessary for thyroid health.
The whole grain I like to use is short grain brown rice because it's sticky like traditional sushi rice. Traditionally, sushi refers to how the rice is prepared, typically a white (polished) short-grain rice and vinegar and sugar. The term maki is also included referring to the roll—maki in Japanese means coiling. We're modifying the sushi rice to make it whole-food and plant-based without added sweeteners. Other whole grains you can use in this veggie roll but won't be as sticky include: quinoa, red rice, black rice, and cauliflower rice.
Avocado Veggie Nori Rolls with Edamame has 9 key ingredients:
Edamame, frozen in the pods
Nori sheets
Cooked short grain brown rice
Avocado
Cucumber
Carrot
Sesame seeds
Reduced sodium tamari soy sauce
Wasabi
The veggie filling is kept simple with avocado, carrots, cucumber, and a sprinkle of black sesame seeds in this recipe. You could also try avocado, mango, and cucumber roll, or even seasoned tofu, bell pepper, and baby spinach roll. The options are almost endless.
While this recipe is for cut rolls, you can easily make this into a handroll, which I do more often than the cut roll. Admittedly, I tend to be lazy and don't want to fuss around with rolling and cutting.
— Gigi
This recipe also includes edamame to make it more of a lunch or light dinner entrée. For other light dinner options, check out Elegant Beet and Arugula Salad, as well as Cauliflower Steak with Butternut Squash Puree.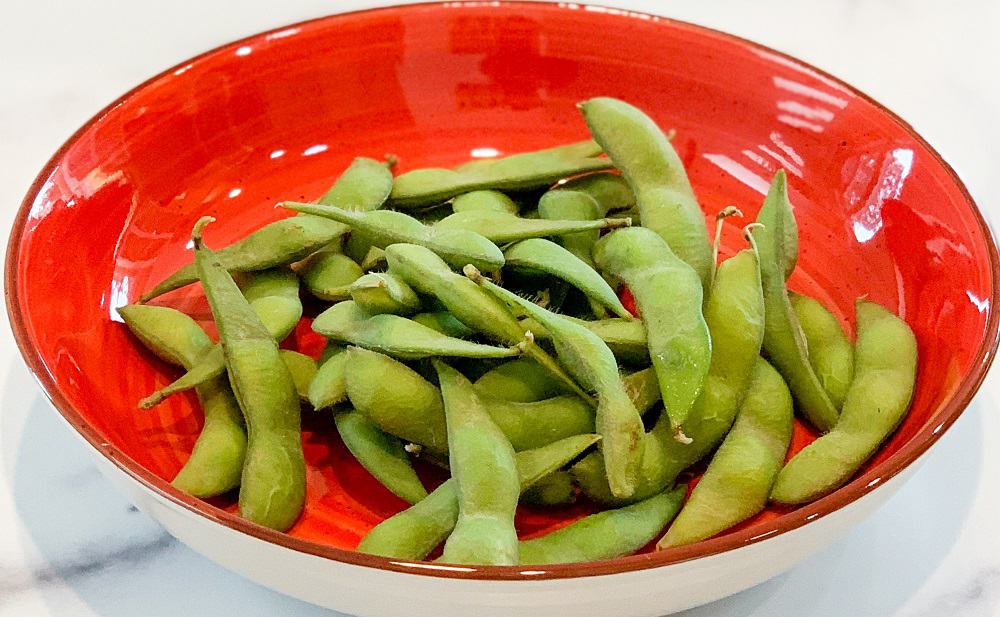 Print
Avocado Veggie Nori Rolls with Edamame (Maki Sushi)
---
Total Time:

20 minutes

Yield:

2

1

x

Diet:

Vegan
2 cups edamame, frozen in the pods
2 nori sheets (full size sheet for sushi, not the little snack pack sheets)
½ cup cooked short grain brown rice
½ avocado, sliced thin
½ cucumber, julienned (like matchsticks)
½ carrot, julienned
1 Tbsp sesame seeds
2 Tbsp reduced sodium tamari soy sauce
2 tsp wasabi paste for heat
---
Instructions
Prepare the edamame by placing frozen pods into a medium pot of boiling water. Cook for 5 to 6 minutes. Drain and set aside.
Take two nori sheet and carefully spread ¼ cup of room temperature or slightly warmed rice across each sheet leaving about an inch of space at one end.
Add the sliced avocado and julienned cucumbers and carrots. Sprinkle sesame seeds across the open rolls. Taking the end with more rice, carefully yet tightly roll the sheets towards the end with the one-inch gap. When you get to the end of the roll, wet your finger tips and run it across the gap to help seal the roll closed. Using either a sushi rolling mat or a clean kitchen towel, gently press the roll so it's nice and firm.
While holding the roll, use a sharp knife (for me, my serrated knife works best), carefully cut into 5 or 6 pieces.
Prepare the wasabi paste (for heat) and soy sauce for dipping. Enjoy!
Notes
Prep Time:

15 minutes

Cook Time:

5 minutes

Category:

Lunch/Dinner Entrée

Cuisine:

Japanese
Keywords: veggie sushi roll, sushi, maki sushi, vegan, avocado, cucumber, carrot, wasabi, nori, edamame, daniel fast compliant, gluten free, nut free
Packed with daily devotionals, nutritional tips, journal prompts, and inspirational quotes, A Prayer for Your Health Journal will help you create a God-centered vision for your health. This journal provides practical tools and spiritual guidance to bring physical, mental, and spiritual health back into your life. It will inspire you to reset your body and energize your walk with God.
FREE #PFYH 4-Day Challenge
A Prayer for Your Health 4-Day Daniel Fast challenge will nudge you in the direction of taking those first steps from the rut of an unhealthy lifestyle to taking control of your health.
What you'll get:
Access to a private FB community
Know-how & info with an instructional guide
Inspiration through daily scripture
Motivation with journal prompts
Actionable steps with sample meal plan & recipes
Encouraging daily emails to help strengthen you along the way
Success strategy from additional resources and information
You'll also be invited to LIVE short sermons during the 4 days, in which we'll be praying for:
A God-centered self-image (Day 1)
Breaking our addiction to food (Day 2)
Breaking generational cycles of poor health (Day 3)
The courage to take action (Day 4)
Shop for Ingredients
As an Amazon Associate, we receive a small commission for qualifying purchases.